Posts: 29
Joined: Thu Jun 12, 2008 2:24 pm
Make: Opel
Model: Corsa
Type: UTE
Year: 2004
Everyone welcome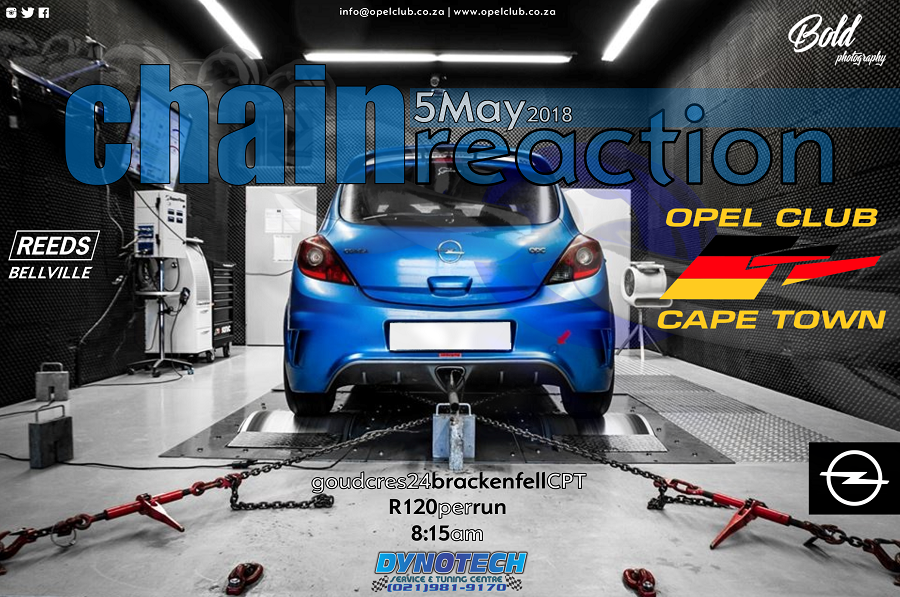 "A positive attitude causes a chain reaction of ... bla bla bla".
5
May
SATURDAY
goudcres24
brackenfell
CPT
R120
per
run
8:15
am
- 9 classes
- Photography
- Displays
- Food
- Drone cinematography
- Vouchers, prizes, certificates & the works
- Flywheel readings
- kW & NM will be combined to determine positions in the various classes
BE THERE! First come, first served.
https://www.facebook.com/events/186293215426921/

**The

prize-giving

will be held at

REEDS Bellville

on 10 May @

7 for 7:30pm
---
Posts: 29
Joined: Thu Jun 12, 2008 2:24 pm
Make: Opel
Model: Corsa
Type: UTE
Year: 2004
Bump

Partners/sponsors to this event are:
Reeds Bellville
Powerflow Bellville
Goch & Cooper
Solar Screen Tableview
Tyreplus Tyger Valley
---
Posts: 29
Joined: Thu Jun 12, 2008 2:24 pm
Make: Opel
Model: Corsa
Type: UTE
Year: 2004
Big thanks to all those that attended/supported. We are humbled & appreciate your attendance and/or support tenfold. Thank you to all of our partners/sponsors.
Thanks to the photographer & to the drone cinematographer, not forgetting Izak @ Dynotech, the food stall, our display cars, Reeds Bellville, as well as Reeds N1 City.
Photos & video links will be posted out soon via the socials & our forum (I'll try not to forget to post the vid or something here)
We've yet again decided to not only award 1st to 3rd place winners, but 4th place as well.
Very cool prizes/vouchers/medals, & certificates will be ready for you on the 10/05/18 @ Reeds Bellville – 19h00 – 1 Voortrekker Rd.
You will receive an email & sms in a few hours.
Please attend or send someone to collect on your behalf. We will really appreciate it.
Mail
[email protected]
if you have any queries.
Shot.
https://drive.google.com/file/d/1lJ584Y ... sp=sharing
---
Return to Unofficial Get-Togethers
Who is online
Users browsing this forum: Google [Bot] and 1 guest